Because of its natural strategic position on a small peninsula into the Mediterranean Sea below the Taurus Mountains, Alanya has been a local stronghold for many Mediterranean-based empires, including the Ptolemaic, Roman, Byzantine, and Ottoman Empires. Alanya's greatest political importance came in the Middle Ages with the Seljuk Sultanate of Rûm under the rule of Alaeddin Keykubad I, from whom the city derives its name. His building campaign resulted in many of the city's landmarks, such as the Kizil Kule (Red Tower), Tersane (Shipyard), and Alanya Castle.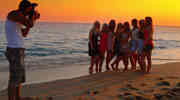 It's much less crowded than Side, even in midsummer. Most of the old town lies on the great rocky promontory that juts out into the sea, the bulk of which is occupied by the castle - an hour's winding climb or a short ride on an hourly bus from the tourist office. At the end of the road is the Ic Kale, or inner fortress (daily 8am-sunset; $3), built in 1226 and virtually intact, with the shell of a Byzantine church, decorated with fading frescoes, in the centre. A platform in a corner of the fortress gives fine views of the western beaches and the mountains, though this originally served as a springboard from which prisoners were thrown to their deaths on the rocks below. On the opposite side of the promontory, the Kizilkule is a 35m-high defensive tower that today houses an Ethnographic Museum (Tues-Sun 8.30am-6pm; $1), and has a roof terrace that overlooks the town's eastern harbour. On the western side of the promontory, the
Alanya
Museum (daily 9am-noon & 1.30-6.30pm; $1) is filled with local archeological finds and ethnological ephemera, its garden a former Ottoman graveyard. Nearby, the Damlatas (daily 6-10am; $1), is a stalactite- and stalagmite-filled cavern with a moist, warm atmosphere said to ease asthma; it's accessible from behind the Damlatas restaurant.
Alanya
's beaches, though not particularly clean, are extensive, stretching 3km west and 8km east.
Nearby close to the seashore is a cave called Damlatas. The humid air inside this cave is supposed to be good for those suffering from asthmatic problems. Alanya's archaeological museum contains numerous interesting works and is well worth a visit. Owing to its vital importance as a naval base, Alanya was connected by roads that went east and west and into the hinterland. (The Seljuk capital was up country in Konya.)
Alanya
's bus station is a twenty-minute walk from the centre, but if you come in by local bus from Side or Manavgat you'll probably arrive at the dolmus terminal, five minutes north of the centre. The tourist office is at carsi Mahallesi, Kalearkasi (daily 8.30am-6pm; tel 0242/513 1240), opposite the town museum.