Side
is now a resort town on the southern coast of Turkey, near the villages of Manavgat and Selimiye, 75 km from Antalya in the province of Antalya. It is located on the eastern part of the Pamphylian coast, which lies about 20 km east of the mouth of the Eurymedon River. Today, as in antiquity, the ancient Roman city is situated on a small north-south peninsula about 1 km long and 400 m across.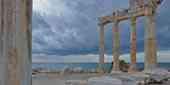 Both Turks and foreigners come for the perfect white sand beaches, the seaside restaurants and bars, the variety of lodgings (from cheap little pensions to luxury hotels), and the impressive Hellenistic and Roman ruins.
The best times to enjoy Side are late April, May, early June and October. If you must come in high summer, avoid weekends, when half of Ankara roars down to Side for a swim.
Car, bus and minibus are the ways to get here. Buses and minibuses come from Antalya and Alanya. The nearest airport is Antalya's, 55 km (34 miles) west of Side.